Hello again;
In this post we will discuss how to start searching for a job on
ODesk
.
First of all log in to your account and write your user name and password
here....
If you still do not have ODesk account, read my previous post about
How To Sign Up Wit ODesk
when you log in,
Odesk
will take you to your home page and it should look like this
As you can see, there are several elements in your
Odesk
Page:
On the Left: your categories of interest, these are the categories which you have experience or wish to have work with. by clicking on any of these, you will find all jobs added to this specific category you clicked on.
In the Middle: There will be several job posts that Odesk suggested for you. If you liked any of the, click on it to find more details. Note that these are not the only jobs added, you can still find more by visiting categories of interest.
On the Right: There will be your personal information that you can edit anytime just by clicking on the item you want to edit.
Now, How to Search for jobs on
Odesk
?
I will assume that you added "Data Entry" to your categories of interest.
1- Click on "
Data Entry
" and you will land on a similar page
2- Hover over any of the jobs you like and an "
Apply
" button will appear
3- If you still need more information about the job, click on the title and you will be converted to this page
Now, if you like the job offer, click "
Apply to This Job
".
4-
Odesk
will convert you to this page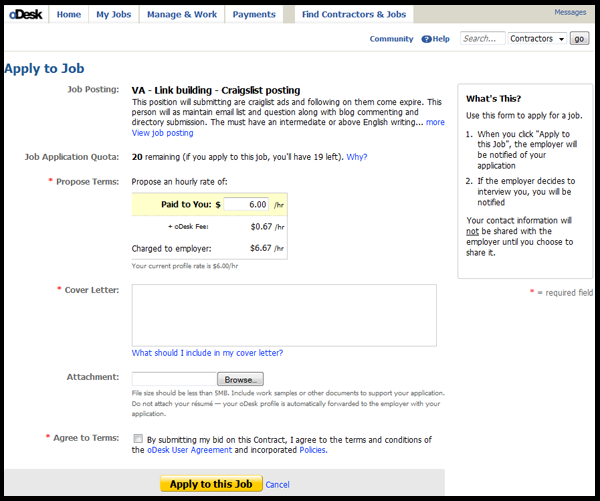 You will need to fill your rate "the amount paid to you".
Then, Write a Cover letter to show your interest in the job. Cover letter should have a quick preview about your skills and experience. It is your way to sell your self and convince the employer. So, make it unique and avoid grammar and vocabulary errors.
Note:
If the employer required certain files to be attached, you can add them from Attachments. Otherwise, you don't need to attach anything.
When you are done,
Agree to ODesk terms
and "
Apply to this job
"
This is how you apply to Jobs in ODesk. Our next post will be about how to choose the best jobs and avoid scams.
keep checking.